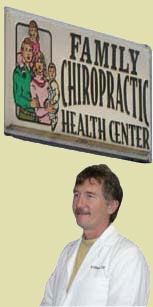 I believe that anyone eating a healthy diet (9 to 10 servings of fruits and vegetables per day), exercising and not over indulging in bad habits need very few supplements. Others that are getting almost no servings of fruits and vegetables on some regular basis, participating in unhealthy habits and are not aware of the need for proper nutrition. You may die early and have a lot of problems along the way. You need all the help you can get. Everyone else lands in between some where and according to studies that makes up about 70% of the rest of us. You, we are the ones that just cannot get healthy food everyday, but you do know the health benefits of proper nutrition, you know vitamins and supplements can help and you want to be around for your grandchildren or someone elses grandchildren.

My commitment to you is to provide a top service on-line as I do in my practice. Family Chiropractic Center offers dc brand Vitamins from Dee Cee Laboratories. We buy them direct from the manufacturer and they contain no artificial additives or preservatives. Dee Cee Labs has a commitment to the quality of their product and we have a commitment to quality of service we provide you. This is why we can offer the following guarantee without reservation or hesitation. We provide an ABSOLUTE 100% SATISFACTION GUARANTEE. You must be completely satisfied with any product you purchase from Family Chiropractic or you can return it within 30 days for a replacement, credit or full refund.
See our Featured Product. Very positive results being reported from all who are using UNIQUE B12 Sublingual Tablets!
Family Chiropractic has been in business for 10 years. I have personally been practicing and studying nutrition for 30 years.
The products I send to you from Dee Cee laboratories sets a standard of excellence for manufacturing Dietary Supplements that many have tried to imitate.
Take A Tour Of Dee Cee
We look forward to helping you with your vitamin and supplement needs.
Thanks,
Frank Etlinger, D.C.